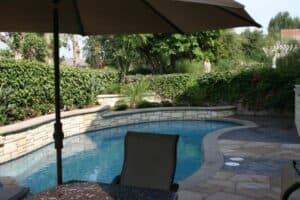 The Best Pool Tiles in Orange County
Looking for the best pool tiles in Orange County? The kind that will make your pool stand out from the rest and impress your friends and relatives alike? Then, you have come to the right place.
Read on to choose the right tiles for your pool:
Glass Tiles
Glass tiles are becoming increasingly popular in Orange County and for several good reasons. These tiles are durable and non-porous in nature. Since they are made from recycled glass, they are also environmentally–friendly.
Glass tiles are aesthetically pleasing as well since their translucent nature matches nicely with the transparent look of water. They come in a small mosaic form, which has the advantage of covering curved surfaces very well.
Savvy pool designers, in consultation with homeowners, can mix different colors together to create fabulous artwork that will complement your swimming pool. You can also choose from glass tiles with a sparkling coating that will shimmer beneath the water surface.
Glass tiles can imbue a mesmerizing gem-like sparkle to your swimming pool.  The visual appeal of these scintillating tiles is simply irresistible.
Stone Tile
Stone tiles are perfect for the idyllic Mediterranean look or the classic oasis style. Stone tiles impart a natural and soothing appearance to your swimming pool. With pool coping, the pool appearance can match perfectly well with your deck or patio. Stone tiles come in different forms, includingsemi-polished granite, bluestone, sandstone, slate, travertine and flagstone tiles.
Ceramic and Porcelain Tiles
Ceramic and porcelain tiles are classic options for modern swimming pools. These tiles are available in mosaic style and may also be hand-painted for wonderful designs. Since there are so many textures, hues and designs available, you can find the right tiles that will suit your landscape nicely. For bolder and exotic options, you can also select texture-glazed porcelain tiles that will look perfect with your swimming pool border.
You also have the choice of mixing porcelain and ceramic tiles together with glass and stone tiles to impart a unique and exotic look that will draw the admiration of beholders.
Keep in mind, you must be careful of some issues to ensure that your swimming pool does not face serious problems. For instance, glass tiles should not be too large; otherwise, they might crack under the strain of thermal shock. Hence, it is never a good idea to use big slabs of glass tiles along your pool waterline. Large tiles can also make the center more prone to cracking.
An experienced pool contractor in Orange County can guide you more about tiles and other vital matters for your dream swimming pool. They can recommend the best material and installation technique so that your pool can serve you well for many years without trouble. You can enjoy the swimming pool that you always envisioned and save money in the long term.Contact us today.