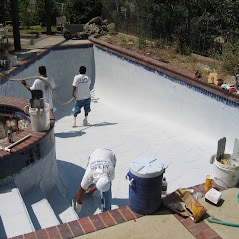 Professional Swimming Pool Installation Made Easy
Dive into your dream pool today.
Beat the heat with the most trusted swimming pool installation in Orange County.
If you're worried about sloppy installs or leaky edges – then look no further.
Our team of professional swimming pool builders has the expertise you deserve to transform your backyard into a show-stopping oasis.
Hire a team you can trust
Swimming Pool Installation & More
We have had the honor to serve as Orange County pool contractors since 1987. So no matter how big your project is – we can handle it!
Besides expert swimming pool installation, we also offer:
● Swimming pool design
● Pool remodeling
● Swimming pool plastering & resurfacing
● Swimming pool building
If you have a backyard dream – we'll make it a reality.
The process
Consultation. Whether you want a custom-made waterfall or just a kiddie pool, every backyard makeover starts with a consultation. We'll go over all your needs and preferences, then come up with an action plan.
The quote. We'll work out the specific requirements and goals. Once we have the blueprints drawn up and the materials in our shopping cart, we'll work out a reasonable quote that reflects our honest work and quality craftsmanship.
Installation. Once we have the Green Light, we'll get to work on the swimming pool installation ASAP. At this stage, you can start blowing up your pool floats.
The splash. Escape the California heat and jump into your new pool. We offer a comprehensive warranty so that you can let all your worries float away.
Our work speaks for itself
We've been the #1 swimming pool installation service in Orange County for over 30 years. From small accent pieces to enormous landscape renovations, we've done it all.
Don't Sweat It
It's time to relax and let us handle the heavy lifting. Reach out to us today to start the swimming pool installation process.
Curious to know more?
We've had the pleasure of giving Orange County residents a break from the heat for over 30 years. We pride ourselves in being the backyard resort experts that provide high-quality work at an honest price.
Learn more about All Time Pool
Everything You Need to Know About Anaheim Pool Installation
Want to do a bit of research yourself? Check out our blog for some pool tips & tricks, as well as an inside look into the world of swimming pool installation.
Contact us today
Reach out to us [here] to set up a consultation. You tell us your dreams, and we'll make it happen.