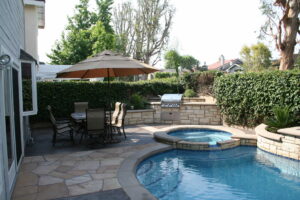 Looking for quality pool remodeling and resurfacing for the most competitive rates?
Pool Coping Options
Wondering what pool coping is? Simply put, pool coping is the crowning glory of your sparkling oasis. But, it is much more than just sublime aesthetics. Pool coping adds functionality and protection to your swimming pool so that you can use it for many years.
Pool coping is the visible exterior that covers the shell wall of your swimming pool. It protects the concrete shell wall and structure of the swimming pool.
You can choose from several great materials for pool coping in Orange County. The most common options include natural materials, such as marble, granite, natural stone, pavers, and more. They are fine choices for protecting your swimming pool and imparting a strong visual appeal to the pool area.
Poured in place & Pre-cast 
Concrete requires comparatively less maintenance because it is quite sturdy. .
One of the benefits of concrete is that it is highly resistant against chemically–resistant water. Poured concrete can provide a water-proof contour for your pool. The material is attractive, durable and robust. It is also available in variety of finishes, such as buff-polished, acid washed, broom finished and sand blasted exteriors, all of which have sublime aesthetic appeal. Poured concrete can be molded to all possible shapes, such as curved, bullnose or flat edge to facilitate swimmers and to give your pool a unique look.
Natural Stone
There is nothing quite like natural stone to impart an exotic appeal to your swimming pool. In fact, natural stone can turn your swimming pool into a refreshing oasis. In addition to its immense natural beauty, it is also toughand resilient in equal measures.
Although natural stone tends to be more expensive than pavers or bricks, the investment is well worth it as it offers you enhanced durability and unmatched aesthetics.
There are many differences between natural stone options due to the wide variety of available materials. Sandstone and granite are notable for their durability. On the other hand, travertine is more porous and requires sealant for good resilience and maintenance. However, due to its porous nature, travertine can also remain cool under hot conditions – a luxury during the searing summer months.
Other materials like marble and granite are classics that are admired for their sheer elegance and beauty. Marble can instill a touch of class and opulence to your swimming pool like no other.
Travertine is also a great choice for coping material since it is a natural stone. The appearance is simply beautiful, the durability is exceptional and the material is cost-effective. Travertine is also highly porous, that is, it has naturally–occuring air pockets that keep the material cool during summers. Hence, travertine is a great choice for your swimming pool since it will remain fairly cool even under the scorching blazing sun.
Pool coping also comes in all sorts of styles, such as rolled edge, bull-nosed, cantilevered and rough-cut. You can use the right style for better coherence with your coping material and surrounding landscape.
We have designed and constructed swimming pools for over three decades and amassed immense loyalty in Orange County. We can give you the best advice for creating your dream pool. You can count on us for all kinds of swimming pool jobs, including construction, repair and maintenance. Contact us now in Orange County.